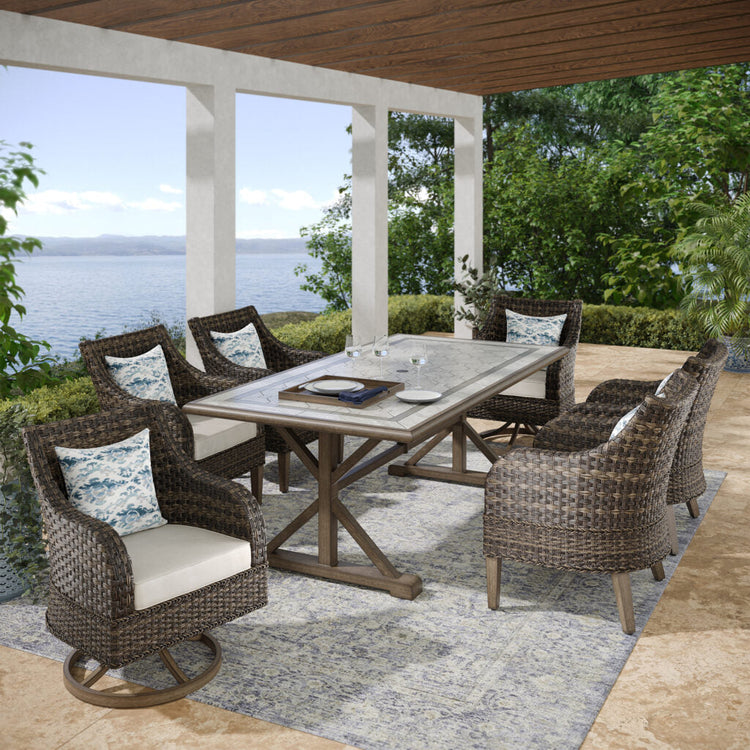 No matter what you're looking for in a dining set, here at Sheridan's Market, you're sure to find it. With great, affordable selections of overstock patio furniture, we're the premier supplier of outdoor dining sets throughout Utah. We also carry an abundance of other outdoor patio furniture and accessories, including propane fire pits, outdoor coffee tables, patio heaters, and more! Be sure to shop from our online selection or visit one of our locations in Lindon or Layton to shop from our selection of furniture. When you choose to shop from us, you'll know that you're getting the highest quality.
So what are you waiting for? Enjoy a blissful meal outside with the ones you love with one of our patio dining sets! We are offering the absolute lowest prices on these amazing sets!
Outdoor Dining Sets
Sheridan's Market is where style meets comfort when it comes to all things outdoor furniture. That's how you know that no matter which dining set you select from us, you'll be getting something that will not only go great on your outdoor patio but feel great when you use it. Whether you're looking for a larger set to sit up to eight people or something smaller, you're sure to find something from our online collection or from one of our stores in Lindon and Layton, Utah.
Know that when you choose to shop from us, we'll always provide the best quality dining sets and other patio furniture. Learn more about the features and benefits of our dining sets below:
Different sizes available (nine-piece sets and seven-piece sets)
Oversized options available
Cushioned dining armchairs
Cushioned dining armless chairs
Swivel rocker dining chairs
Sling dining armchairs
Polyester furniture dust covers are included with some sets
Porcelain table tops
And more!
FAQs About Dining Sets at Sheridan's Market
What are the benefits of having an outdoor dining set?
Most of us would love to be able to spend more time outdoors in the fresh air, but it's hard to make time for that with busy schedules. Having an outdoor dining set or round patio table in your backyard is a great way to be with nature and the sunshine while eating meals or even working, reading, or other activities. A small outdoor table is also a place to make great memories with family and friends.
What should I keep in mind when shopping for an outdoor dining set?
There are a few things you should keep in mind when shopping around for your new outdoor dining set. First should be your budget. Sheridan's Market offers some of the best prices you'll find anywhere and is a great place to find high quality outdoor furniture without breaking the bank.
You'll also want to consider the space you have at home and the number of people who will be eating at the table, to make sure you get a set large enough for your needs. From there, it's all about the style and choosing a material and design that suits your personal taste and design aesthetic.
How are you able to offer such low prices?
Sheridan's Market is your one-stop shop for high quality patio furniture at prices that can't be beat. All of our furniture is still brand new, and we source from closeout, return, and overstock patio furniture inventory so we can give you premier quality at budget-friendly prices.
Can I shop your selection in person?
Absolutely! For customers located in the state of Utah, we currently have two outdoor patio furniture stores near you located in Layton and Lindon. Feel free to stop in to browse our inventory in person and get a better sense of what our stock looks like before you buy.
Do you carry other items to go with my dining set?
Yes. Sheridan's Market can meet all of your outdoor and patio furniture needs. In addition to outdoor dining sets, we offer other kinds of patio furniture such as lounge sets, round outdoor coffee tables, and outdoor chairs, as well as accessories to complete your outdoor oasis like fire pits, sun umbrellas, pillows and cushions, pellet grills, furniture covers, and more.
Shop Small Space Patio Furniture and Dining Sets at Sheridan's Market
When you're looking for a new dining set for your outdoor living space, Sheridan's Market is the place to shop. From smaller sets to oversized sets, we have it all. Not only do we carry dining sets, but other great overstock patio furniture as well, such as umbrellas, outdoor chairs and lounges, and more! Stop by one of our locations or start shopping online today to make your dream patio come to life.
Join the Family
Never miss our most exclusive deals!